We're traveling back in time to look at this kitchen renovation from start to finish. If you follow me on Snapchat or Instagram, you have seen a lot of this work happen over the past several months. Follow along here for all of the details, starting with removing a kitchen drop ceiling!
As you saw in the kitchen before post, the Crystal Palace kitchen definitely had room for improvement. The first task we tackled had a big impact: removing a kitchen drop ceiling. The kitchen ceiling was over 10″ lower than the rest of the first floor and the drop ceiling tiles and fluorescent lights were making me sad.
How we went about removing a kitchen drop ceiling:
We started by popping out all of the kitchen drop ceiling tiles, which unleashed decades of dust and debris. I have a habit of getting debris in my eyes so I wore glasses and tried to shield my face throughout the process. You'll see that in my squinting and ducking in all of the renovation pics. My parents were such a huge help and were easily persuaded to start additional projects after the day seemed done. I think when we started the terrible task of removing a kitchen drop ceiling, we had just finished ripping out some carpet and my parents were about to head home. Jokes on them, there is always more work to do.
Once we had all of the tiles taken out, we were left with the metal drop ceiling frame which was screwed into the perimeter walls and the top of the cabinets. I wanted to yank it out using brute strength, but since I'd be living with these walls and cabinets for a while, I took the time to unscrew the whole frame instead.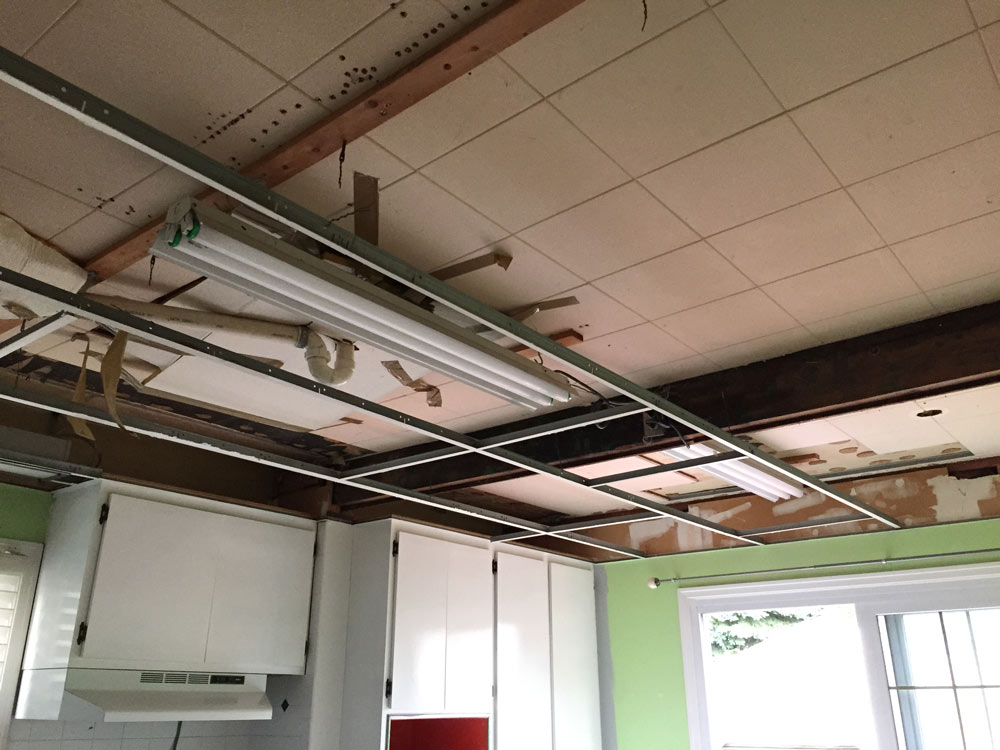 Unfortunately, removing the drop ceiling revealed some very questionable plumbing work. The pipes were wrapped in insulation and taped to the layer of acoustical tiles(ceiling 2, for anyone counting.) Interesting note, I'm pretty sure they used packing tape to attach the pipes to the ceiling, which seems like a weird choice.
Up Next:
Thoughts?:
Have any of you dealt with removing a kitchen drop ceiling?
Would you have hulked out and torn down the metal frame?
---