It's easy to grab a pair of plain solid color curtains from IKEA or Target, but when it comes to mixing patterns with rug and curtain pairings, it can take a little more finesse. Our suggestion is to focus on either a bold rug or bold curtains and use a more subtle pattern to complement it. We've pulled together our favorite rug and curtain pairings here in case anyone needs a little inspiration.
Rug and Curtain Pairings: Bold Curtains
Soaring Starlings Curtains + Millbrook Handwoven Triangle Rug
These are my DREAM curtains. I would love to use these in my guest room against the navy walls (Farrow + Ball Hague Blue). They are approximately a zillion dollars, but the crewel detailing looks worth it.
Florilla Curtain + Maui Jute Wavy Chevron Rug
Odelina Curtain + Tweed Flatweave Dhurrie Rug
Kalei Curtains + Hazy Lattice Rug
Garden Buzz Curtain + Maui Jute Braided Rug
Monica Curtains + Natural Basket Weave Jute Rug
Sheer Cotton Painted Ombre Curtains + Chalet Diamond Trellis Rug
Laurel Kimono Floral Curtain + Jute Bauble Rug
Elle Floral Blackout Window Panel + Radiating Diamonds Rug
Tumbling Diamonds Curtain + Bjorn Jute Rug
Rug and Curtain Pairings: Bold Rugs
Tommy Hilfiger Diamond Lake Curtains + Safavieh Bellagio Rug
I have this combo in my living room and love how the curtains work with the Bellagio rug and the black + white IKEA rug that I have in the dining room. I bought one set of curtains on Amazon but found a second set (for added fullness) at Marshall's. These curtains come in white + grey or white + tan.
Striped Ikat Curtains + Tikal Geometric Tribal Rug
Nesting Diamond Curtains + Keno Color Block Blue Rug
Wheaton Stripe Drapes + Capri Palm Leaf Rug
Bark Texture Jacquard Curtains + Bosphorus Abstract Rainfall Rug
Allover Crosshatch Velvet Jacquard Curtains + Overdye Leaflet Fountain Rug
Mixed Striped Jacquard Curtains + Painted Hyacinth Rug
Gradient Grid Curtains + Vintage Mackenzie Rug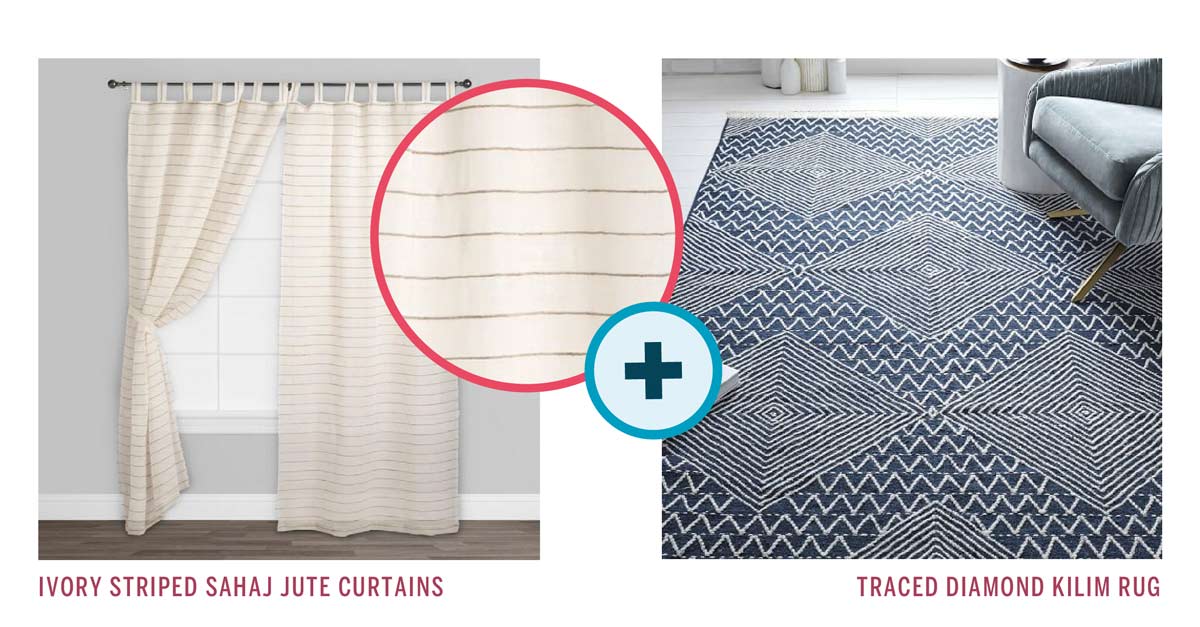 Ivory Striped Sahaj Jute Curtains + Traced Diamond Kilim Rug
Alright, that's a wrap on mixed pattern rug and curtain pairings. Do you have a favorite pair? You could mix and match most of the rugs and curtains in either group, so let me know if you want to see any different configurations!
Perfect Pairs
It's a lot easier for me to make a decision on new home stuff when I can see everything together, either on screen or IRL, so I think I'll keep making these perfect pairs. Up next: rugs pairings for any space where you can see two rugs at once. (Like my living room + dining room rugs) Any other requests for perfect pairs? Duvet covers + throw pillows? Duvet cover + rug + curtains? I'm open to suggestions!
---