So, I accidentally redesigned my living room over the weekend. How? Well, I have no self-control and I popped into Savers to look for some patio furniture for my sister and her husband and was greeted by a perfect condition Article Sven Grass Green Sofa and then my plans for my living room (and the rest of my Saturday) changed. I was initially planning on getting a brown leather sofa and some colorful accent chairs, but now I have a green couch and pink rug.
Full details
In the past, I have seen some amazing furniture hidden at the Savers in Rocky River, so I love to swing through there on my way home from my very frequent trips to Home Depot. So last Saturday, I thought I would see if they had any metal patio couches or chairs for my sister (Katie, this is all your fault) and instead came home with a green couch. I walked down the aisle towards furniture and this Article Sven sofa was just STARING at me and no one else seemed to be thinking about buying it. I went on and had a sit, thinking I might buy one online later, when I was ready to make some living room changes, and then saw that the price was $700. This was the 72″ version and it retails for $1300, so this was a pretty sweet deal, and since I like sharing Craigslist/thrift finds online, I obviously I had to tell the internet about it. After I shared my incredible find with you all on Facebook, I found out that everything in the store was 50% off, so I quickly called my parents to see if I could use my Dad's giant car to haul this couch out right away. My mom, always down to help me with a project, dropped everything and drove my Dad's car up right away and the couch was mine!
Things I learned about Savers
I have never seen anything so fresh at Savers, mostly just some mid-century pieces that need some work that someone donated without knowing the true value of what they had. There were two Article pieces with online printouts detailing what they were, so I was a little shocked to find them donated. One of the guys helping load the couch into the car mentioned that these couches were part of a test program with one of their corporate partners and that both couches were BRAND NEW. They were seeing if they could sell something so high-end and expensive (for Savers) and if it was successful they would look into getting more pieces in the future. I'll call it a success. I got a brand new Article Sven Grass Green sofa for $350.
Note: In order to get the 50% off, you have to sign up for their rewards program which is free, and everything in the store is cash + carry (or credit card + carry) so you just have to be prepared to throw a couch in your car anytime you walk in the store.
All about the green couch and pink rug combo
Of course, I couldn't just accept this sweet $350 deal as a gift from the universe and leave my living room as-is. I immediately started scouring the internet for green couch inspiration, specifically, what styles of rugs would work well with a bright green couch. I kept finding only neutral or black and white patterned rugs paired with green couches. Now that I'm used to living with such a colorful, patterned rug, I wasn't sure I could go to anything so neutral. A major bonus of a colorful, patterned rug? It hides all sorts of stains, and I have two pets and am a sloppy eater/drinker which is a dangerous combination. So, a colorful, patterned rug had to stay. I took a bunch of pictures of my existing rug and the new couch and started asking around to see if the colors worked or if I was going crazy. People were loving the Chroma Center Medallion CB10 Rug, but I wasn't 100% sold, so I found a similar rug with a bit more green on it: the Safavieh Alden Rug from Target (while finishing up this post, I found out that Target is no longer selling it, but Home Depot now has it for WAY cheaper.) Note: different companies sell the same rugs with different names, so do a reverse image search on Google to see who else is selling the same rug for cheaper and save that $$$$. Then like a maniac, I quickly Photoshopped it all together: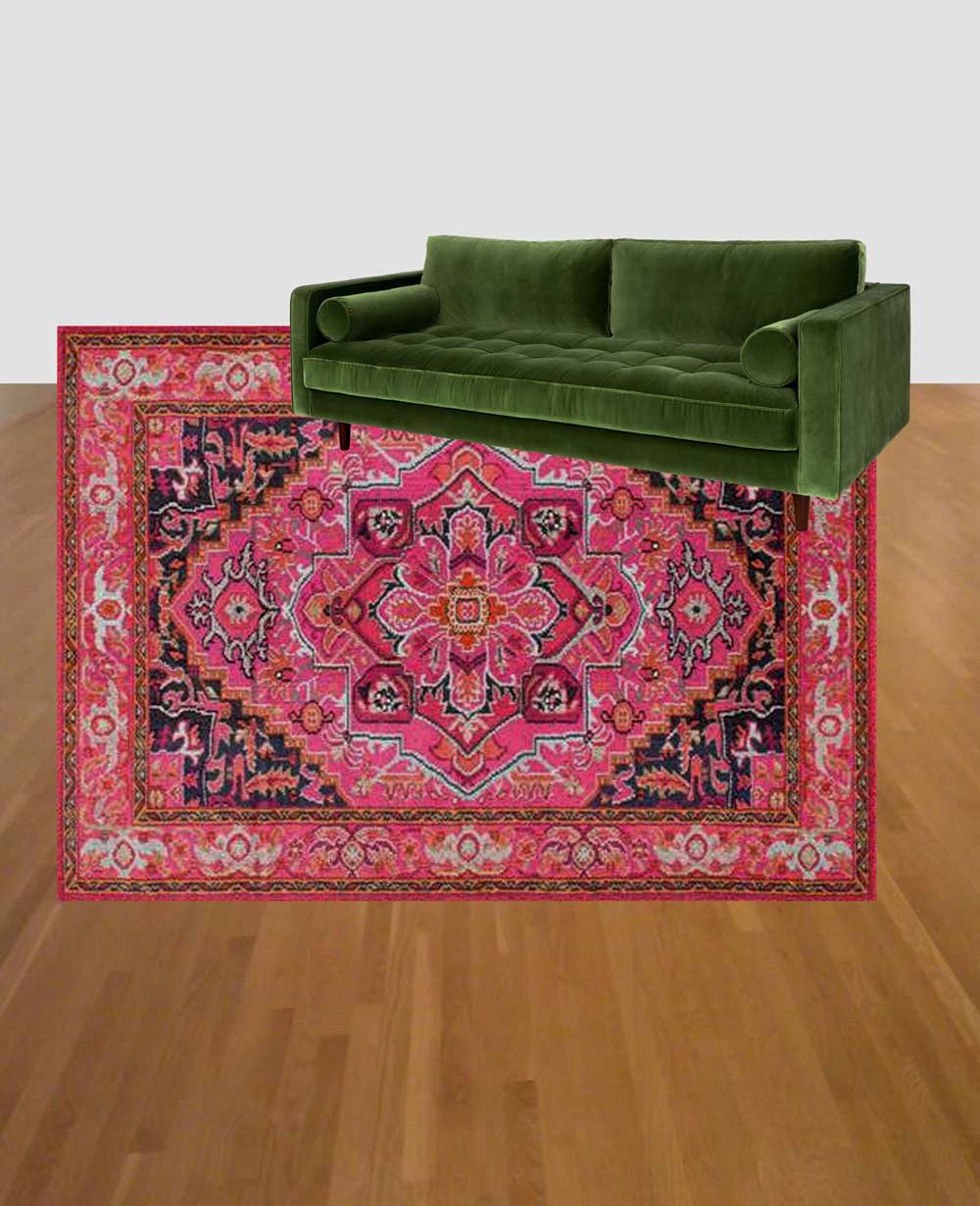 I feel like the original lighter pink one has a more vintage/boho vibe, while the new option seems little more comfortable with the color of the couch. But now, I'm building a whole living room around this impulse couch, and is that responsible? LOL, you know I still did that. I made sure to get this new rug from somewhere with free returns instead of from Rugs USA, where it costs a bunch of money to return rugs (I just assume I'll be keeping whatever I order from there). Target lets you return most of their rugs up to an 8×10 for free to the store, so the risk is a little lower.
It's so much nicer it's not really even fair, right?
Up next, I need to work on spreading some green accents around the room. I'm planning on trying to DIY some green tassels to add to pillows for a little pop of color on the other couch. Also, I'm already trying to find a good second couch that works well with such a statement couch. I'm leaning towards an English roll arm, probably the IKEA Stocksund sofa in Ljungen gray. The old rug will be shuffling up to my room to replace the Chalet Diamonds Cotton Trellis Flatwoven Rug that got shuffled up in the last rug switch up.
For good measure, here's the original set up:
Featuring the Chalet Diamonds Cotton Trellis Flatwoven Rug from Rugs USA.
See it as a swipe here:
TL;DR
Savers has awesome furniture sometimes, so you should check it out. Be sure to sign up for their loyalty program (it's free) and be ready to summon a massive car to help get your impulse buys out of there if you get anything.
A green couch and pink rug can work well together! Or at least I think so. And rugs with busy patterns help hide stains, so consider that, all you sloppy minimalists.
I move my rugs around a lot. I'll have to talk more about that later.
This $350 couch turned into a much larger, pricier project because I'm a menace.
Here are a few of our favorite green couch and pink rug combos:
Would you impulse buy something if you knew it was worth way more? (TBH, I considered selling it, but the minute I brought it inside I knew it was mine). And is the green couch and pink rug combo working for you? Let us know in the comments.
---