In a not-entirely-successful attempt to take my wardrobe in the direction of quality over quantity, I've fallen for Everlane and their clean and classic pieces that never go out of style. They have been on my radar for a few years now with their effortlessly tailored looks, because who doesn't want a quality piece of clothing that makes you look more put together?
They don't just sell great clothes though, they also give back. They've worked with organizations like the ACLU on their 100% Human campaign, which donates to the organization for every piece sold. All three of us own the 100% Human muscle tee and can vouch for its comfort and style.
As if I needed another reason to sing Everlane's praises, they announced that they were adding denim to their collection and that they would be priced at only $68. I, of course, was more than game to try it out. So, follow along as we take a #notsponsored look in our Everlane denim review.
*All images courtesy of Everlane.com
For the sake of a control sample—and to make this a truly scientific study—most comparisons will be made off the unanimous favorite jeans of the blog, Levi's Wedgie. They make your butt look amazing, they have a casual (but not too light) wash, and we LOVE them. Everlane denim had a lot to live up to.
I tried two pairs from Everlane, the High Rise Skinny and the Mid Rise Skinny in two different washes, the Dark Indigo and the Mid Blue.
---
The High-Rise Skinny was, of course, my go-to first pair to try, being the most similar to the Levi's Wedgie. They have a 10″ rise, very similar to the Levi's being only about a quarter inch shorter. I picked up this pair in the Dark Indigo. The overall fit is tight (it is a skinny jean) but the ankle leaves a little room and avoids the painted-on look. I would suggest going up one size in the darker colors. Everlane also recommends this, but I totally missed it. They are a touch snug in my usual size and I can tell they don't stretch out in the same way as the Mid Blue.
Since the cover model is 5'8″ and wears a size 25, I love that Everlane lets you see the same product on a different size model. Here is someone who is 5'6″ and also wears a size 28. This allowed me to really see what the jeans were going to look like on me.
Overall I'd give the High-Rise Skinny in Dark Indigo an A-.
Pros:
Price and quality is great
Fit is classic; high rise means nothing will be spilling out
Dark Indigo is perfect to dress up everyday outfits for the office, meetings, etc.
Cons:
Dark Indigo needs a size up
Dark Indigo is very stiff and needs to be worn in
Pro/Con:
Denim doesn't stretch, which could be a pro or con depending on your taste
---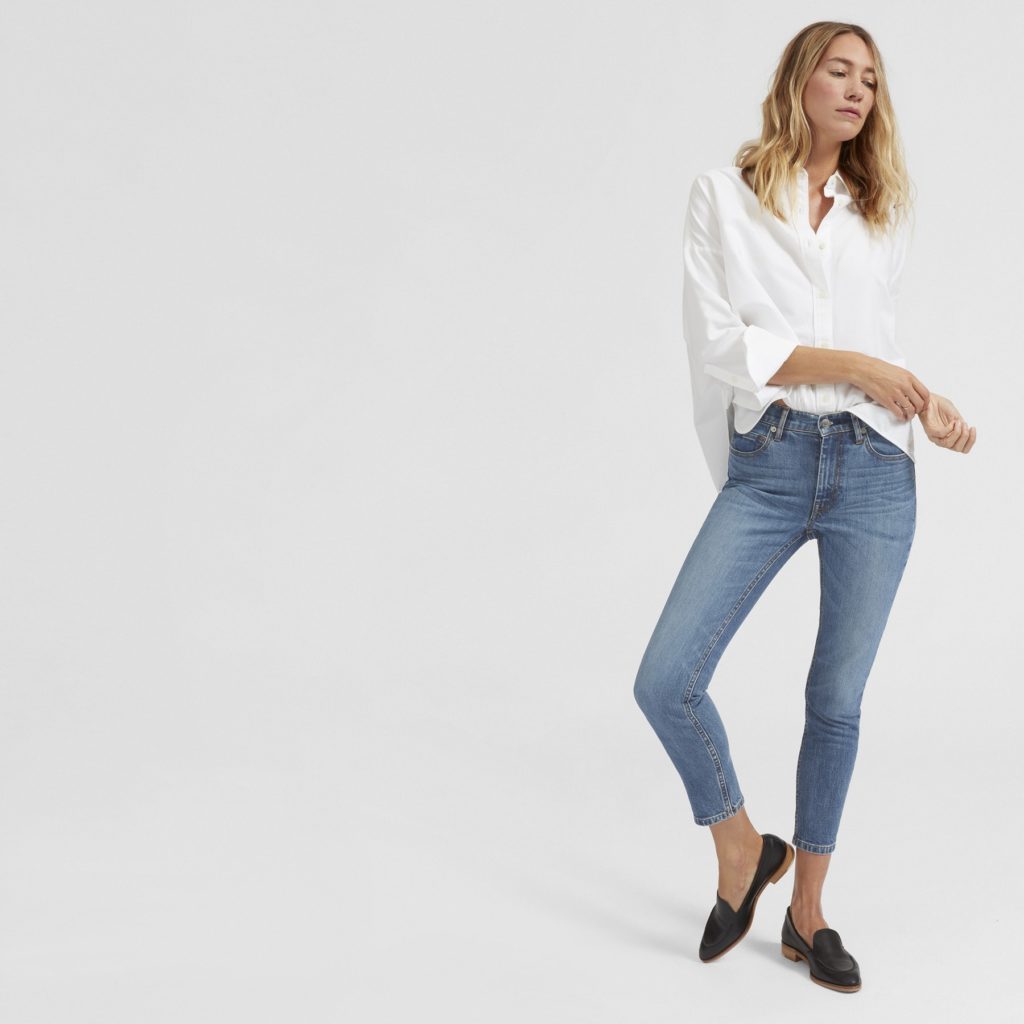 After my recent love affair with the Madewell Slim Boyjean (sorry Wedgies), I realized I may like a mid-rise jean better than a high rise, and it may actually be more flattering on me. The Mid Rise Skinny has a 9″ rise, so only an inch shorter than their high, and is only about a half inch higher than the Madewell ones. This has been the best fitting jean in terms of the rise that I've ever tried. I can bend over without feeling like I'm going to be spilling out, and yet they are a touch more flattering when I want to casually tuck in my shirt. I'll now always be looking for a 9″ rise.
Here again is the model most similar to my body. This pair was the standout winner for me. The Mid Blue is casual, very similar in color to the Levi's jeans, and the wash isn't too stripey. I ordered my typical size, 28, and they fit great. Plus I like that these have the hemmed bottom since my Levi's have a raw hem and sometimes can feel too casual for certain situations.
Overall I'd give the Mid Rise Skinny in Mid Blue an A.
Pros:
Price and quality is great
Perfect rise for me
Wash is casual but not too light
---
Ankle vs. Regular Length
All Everlane denim comes in two lengths: ankle and regular. Here is the 5'6″ model again showing both lengths. The ankle has a 26.5″ inseam and the regular has a 28.5″ inseam. I preferred the ankle length for both pairs since the 26.5″ inseam was the closest to the Levi's Wedgies that I love. I've been finding ankle length, in general, tends to look better with my flats or booties since I'm not especially tall.
---
One of Everlane's steps to go beyond your typical retailer is to be very transparent with their pricing. You can see below all of the costs that go into making a pair of their jeans.
You know exactly what you're paying for and that your purchase is going toward ethical factories and jobs.
---
Overall, I don't think there is a better pair of jeans for this price. Even the Levi's Wedgies are retailing at $20-$90 higher depending on the wash. Couple that with the feel-good model of Everlane and I think they have a winner.
Even though the Mid Rise Skinny was my favorite, I couldn't make myself return the Dark Indigo High Rise Skinnys either. While not my #1, they are the perfect color to wear to casual meetings and will look great with boots once it's cold enough.
If you happen to live close to a Happy Returns location, or in New York where their new flagship store is located, they make it easy to return any Everlane products without having to ship them back. Otherwise, Everlane lets you return any items for store credit for free, plus free shipping on your next item. If that still won't work for you, you can return any item for a $6 shipping and restocking fee. So think of it as a $6 gamble at most.
Give them a try and if you do, let us know what you think in the comments below. Do you have any other favorite denim brands?
---