REJOICE, my house is no longer going to be lemon yellow! I've been dreaming up a new paint color for the siding pretty much since I bought the Crystal Palace (backstory on that name here.) I should note that I don't hate yellow houses, but this particular shade of yellow was wayyyyy too neon and the garage was a different shade and it all had to go. So last year, I made this quick photoshop mockup of the perfect dark teal paint color for my siding, and then set aside my paint dreams because painting your house costs a bunch of money and I am a poor. 
Fast forward to this winter, I went to an event for Village Project, and bid on a whole house painting project donated by Textbook Painting in the silent auction and I won it! This was the perfect way to get my house painted because I'm helping out a great cause and also getting everything I want. Win win win win win.
So back to that dark teal paint color search. I loved the idea of choosing a dark color to play up the contrast between the siding and the columns and railing on the porch. I started by looking at popular navy house paint colors online and got a sample pot of two internet favorites: Benjamin Moore Newburg Green (seen on the Young House Love showhouse), and Benjamin Moore Gentleman's Gray. I liked the intensity of Gentleman's Grey but wanted something that had more green in it. So I got six more test paints and slapped them all up on my house. Here are the contenders:
I took my paint chips on a tour of the town searching for any houses that looked like a similar color to get a better idea of what they would look like on a full side of a house, not just a one-foot section. This house matched the Gentleman's Gray swatch exactly, and in person, the house was just a little too blue-grey.
Being the super-picky person that I am, I want a perfect mix of blue and green to make a dark teal paint color. I'm honestly considering custom blending a few of my test paints, but that might be taking it too far, even for me, the goldilocks of paint colors.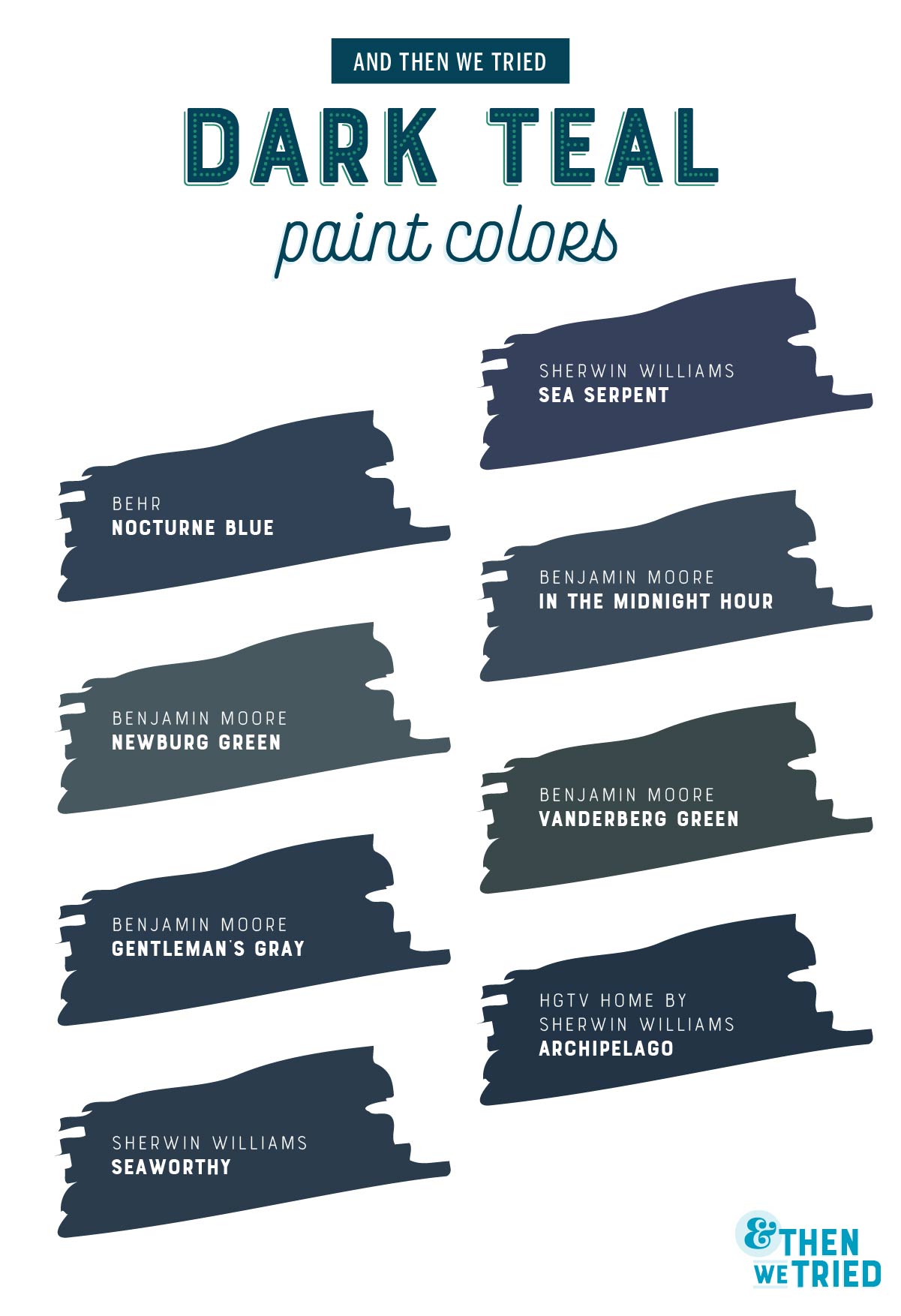 In the next couple of weeks, Textbook Painting will come to the house to power wash and scrub all the siding and around that time I need to have a paint color selected and ready to go. Right now, my favorite is Sherwin Williams Seaworthy, so if you have used this on your house, I'd love to see a picture!
Have you used any of these dark teal paint colors on your siding? Do you have a favorite? Let me know in the comments!
---