Just in time for the start of summer we're back with another rosé exposé. In case you're new to the party, last year we decided to start documenting our rosé journey, both for ourselves and for the good of the people. And this time it's Trader Joe's rosé.
We thought it was only right to kick off the 2018 rosé season with a dozen of our favorites. With the added bonus that since these were all purchased at Trader Joe's, they all fell under $10 a bottle. Not too shabby.
So next time you're standing in front of their myriad of options, pop this open and try one of our favorites.
To catch up on last year's favorites check out our rosé exposé part one and part two.
A few reminder disclosures before we begin:
Disclosure: you may be fooled but we are not sommeliers. Just three ladies who like to drink rosé while we live our lives. Some of our notes and flavor profiles are bound to be incorrect. Don't @ us.
Disclosure two: while we started with diligent photography, our passion for drinking the rose quickly overtook our passion for photography and here's where we are. Most images are taken from the internet and cited as such.
Disclosure three: Since availability is always one of our rankings, we give Trader Joe's wine a 4 on availability across the board. It could definitely be harder to get but it always means a special trip to pick up wine.
Charles Shaw Organic Rosé
Let's start with the recent release of Charles Shaw organic rosé. For the price, this was our all out winner. It's bright and clean with a pleasant after taste. As friend of the blog, Shea, said "it's the kind of rosé you can drink a lot of because the after taste doesn't suck." We predict buying a lot of this all summer long.
Price: $3.99
Image courtesy of Shaw Organic Wine.
Carayon La Rosé
The notes on the label call this wine fresh, round, and pleasing. Fresh and pleasing I agree with, as for round… it tasted, round-ish? How is something supposed to taste round? Nevertheless it paired well with a meal and I would purchase again though it wasn't my favorite of all the Trader Joe's rosés.
Price: $4.99
Image courtesy of The Wine Idiot who also loves to review Trader Joe's wine.
St Sagnol Rosé
The bottle initially attracted me. Who doesn't want to look fancy bringing this bottle to a party? Very light in color and crisp, this would pair well with a salad or fish. Also excellent choice for day drinking (or just drinking loads of it at night).
Price: $4.99
Image courtesy of Riviera Roses.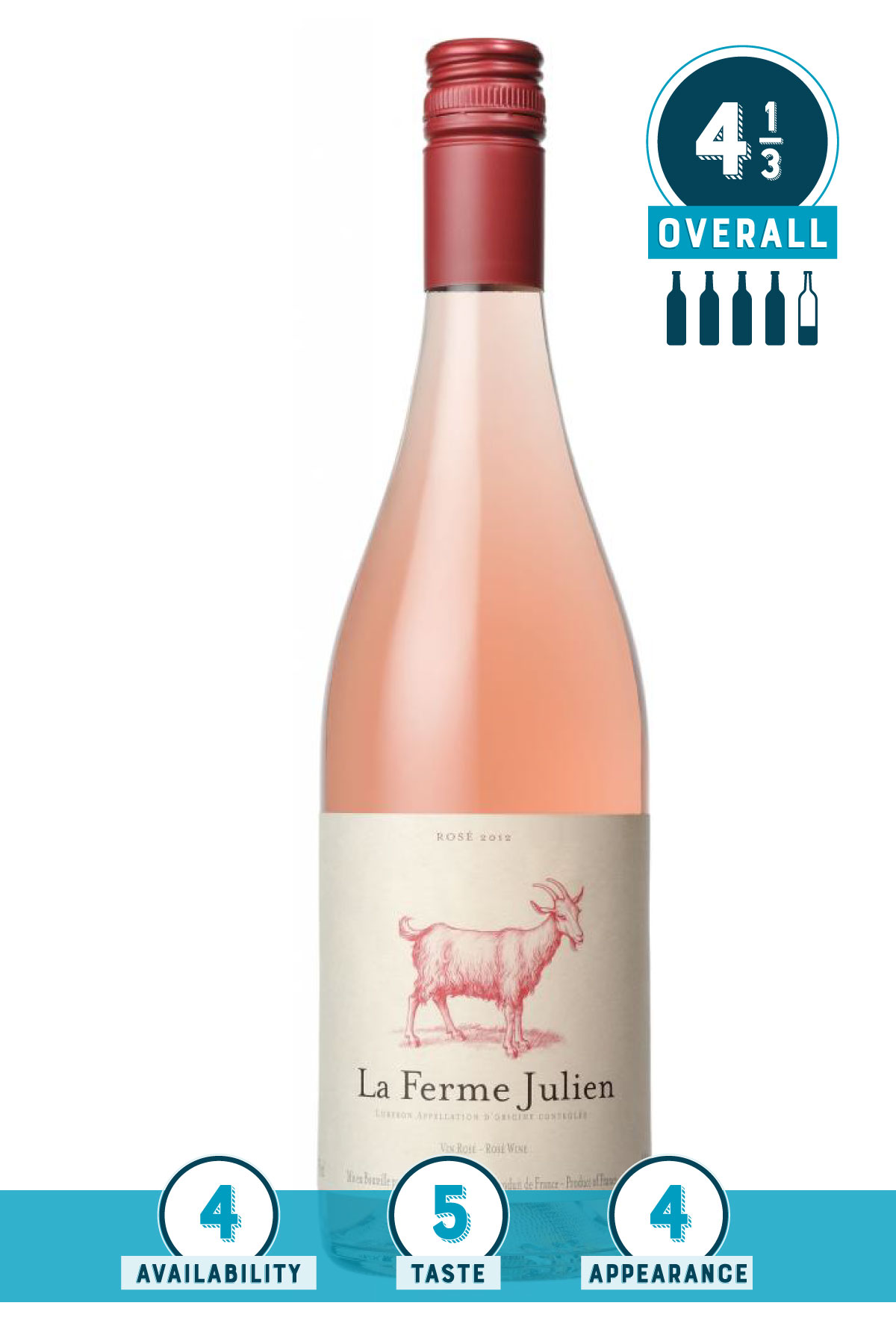 La Ferme Julien
This was neck and neck with Charles Shaw for my favorite everyday rosé. Dry and light, this could be sipped all afternoon on the porch.
Price: $4.99
Image courtesy of Trader Joe's.
La Coqueluche
The label says "La Coqueluche" translates to "the favorite," Google translate says "whooping cough." Just slightly less romantic. Initial taste is good but gets sweeter as you drink. Very fruit forward but no complexity in flavor. I thought the bottle was unique  and easily recognizable but friend of the blog, Shea, commented that it would be hard to use in a wine cooler.
 Price: $5.99
J.L. Quinson Côtes de Provence Rosé
At $7.99 this was the most expensive bottle we sampled. It's a simple and subtle rosé. Lots of bright berry flavors. You really can't go wrong with this one but there are equal wines for slightly less money.
Price: $7.99
Image courtesy of Trader Joe's.
Emma Reichart Rosé
I personally love a pinot noir rosé. They are usually bright while still tasting delicate and make for a very easy drinking wine. This is no exception and while the color is darker than other rosés it was still dry and clean tasting.
Price: $4.99
Image courtesy of Cellar Tracker.
Viñas Chileans Rosario Estate
This is a crisp and clean wine while still being fruity without the sweetness. Overall taste was on par with other wines we tried but the overall look and packaging felt really dated. You aren't fooling anyone that is more than a $4.99 bottle.
Price: $4.99
Image courtesy of Popsugar.
Castell de Raimat
I found this one too sweet to try to pair with food. It had an overwhelming strawberry flavor to it. While you could certainly drink it alone, since we always try to go for dry wines, I'll be skipping this one next time.
Price: $4.99
Image courtesy of Southern Seasons.
Cherry Blossom
This rosé was all around too sweet with a rather funky after taste. The flavor was fairly flat and I'll definitely be skipping this one next time around. One positive? It did have a screw off top which I always appreciate.
Price: $3.99
Simpler Wines Rosé
While canned wine may be so 2017, we're still into it for the convenience of taking it to a concert or picnic in the park. Trader Joe's sells two different sizes, one of which will get you a single glass and the larger which will get you two glasses. It's easy to drink, light in color and a great pick for anywhere you don't want to take a full bottle.
Price: for the larger can $2.99
Image courtesy of Buzzfeed. Check out what they thought of the Simpler wines.
D'orsay Rosé
This is hands down the best label and packaging. Show up with this bottle at a party and people will definitely think you spent more than $4.99. While light in color, it's clean and fruity with slightly strawberry flavors.
Price: $4.99
Image courtesy of HEB grocery.
The winner in our book for price + taste was Charles Shaw Rosé. It was light, easy to drink and we'll be picking up bottles all summer long.
Do you guys have a go-to rosé from Trader Joe's. If so, let us know, we're all ears and eager to try even more!
---