Anyone else have the longest week ever? Between late night Cavs games and car repairs, we're definitely ready for the weekend. Check out Michelle's plea for guidance, Robin's current read, and Hannah's new shoes in this week's And Then We Tried obsessions.
Michelle
Yes, apparently I'm obsessed with auto body work now. Last month my car got scraped in the work parking lot (the mystery hitter was super nice and left their contact info) and this week I finally got my back bumper repaired. I got quotes from a bunch of places around town and then found Rex Body. They did an awesome job, had great prices, and there are two precious pups in the shop. Most importantly, Jeff said they could paint any weird thing I bring in, so I can't wait to find some crazy metal furniture item and have it custom painted sparkly gold or something *fLaShY*
Gym Rat / Health Stuff / Help Me!
I'm officially obsessed with going to the gym, I went to two gyms today. While I'm doing really well going to the gym every day, I'm terrible at not filling my body with trash. I've come across so many inspiring articles or posts about people meal prepping or finding healthy things to eat this week. Stella on Cup of Jo just shared her love of bagged salads, which are delicious, but I don't love eating the same thing every day. Naturally Ella made some intriguing Cashew Carrot Ginger Noodles. AND my cousin just finished a Whole 30; I've only ever made it 19 days, so I'm feeling pretty inspired to try to eat healthy. Internet, please help me. Any recipe ideas or tips for easy ways to eat healthy? Personal details: lazy cook, vegetarian, loves rosé. I planted some tomatoes and red peppers, so if I don't kill those, maybe those ingredients can be included.
---
Robin
Currently Reading
Bad Feminist by Roxane Gay has been on my radar for far too long to just be getting around to reading it. I had heard Roxane on This American Life last year (which they recently replayed) and loved her honesty. I'm only halfway through so far but it is so good and honest and definitely worth the read. RIGHT NOW.
Annual Review
Each year I put together an infographic/annual review of sorts. I usually keep a note on my phone of all the times we'll get Chinese takeout or trips we go on in a year. And even though this was supposed to be done in January—sorry Tai!—I finally finished this week! It will replace last year's in a big frame we have hanging in the apartment. For 2016 I decided to focus on a new tradition we started of trying a new restaurant (almost) weekly or whenever we could. We made it to a bunch of brand new restaurants and that felt pretty good compared to always going to the same places over and over.
And here are what the past years have looked like. I obviously like blue!

---
Hannah
Kelly & Katie Amour Sandal
I was on the hunt for a pair of shoes for an upcoming wedding when I came across these slide sandals at DSW. Low heel, trendy slide, millennial pink, and only $20? Sign me up. While these are technically for that upcoming wedding, I've already started wearing them. They look pretty cute with my favorite Levi's Wedgie jeans!
Kyrie Irving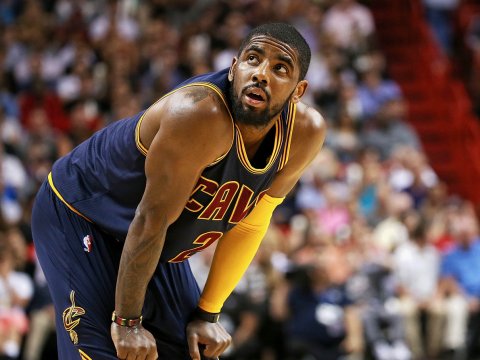 To be fair, this is a more long-term obsession than something that developed this week, but with game four of the NBA finals tonight, I just had to give a shoutout to my boy Kyrie. We may be down 3-0 to the Warriors, but Kyrie is out here hustling every game for the Cavs. Fingers (and toes) crossed that bae and the boys can dig deep and keep this series alive!
---
This has been another week of And Then We Tried Obsessions, where we share whatever we're obsessed with each week. Let us know what you're obsessed with this week in the comments and if you see anything in the wild that you think we'd be obsessed with, be sure to tag us @andthenwetried or use #ATWTobsessions
---